GFP International is a 501(c)3 nonprofit organization with headquarters domiciled in the USA with a history in Tanzania Africa that began in 2005. Its original mission was to support the construction of an elementary school in the underserved rural community of Matamba, Tanzania. It also brought five faith leaders from Tanzania to the US and placed them with host families to help foster mutually beneficial people-to-people connections.
More recently, working with our partners, the Tanzanian Vocation Education and Training Authority (VETA) and the Don Bosco Trade School organization, GFP has expanded its education and training mission to include an initial goal to enhance the training of 5,000 Tanzanian workers with the advanced skills to support industrial development work in Tanzania and throughout the East African Community. 
By starting in 2023, we can envision sufficient welders being prepared to work on construction of the $35 billion Lindi LNG Plant planned for the Tanzanian coast near the town of Lindi, Tanzania, and other industrial projects in Tanzania and throughout the East African region.
Artist's rendering provided by Equinor of the Lindi LNG plant and export facility planned by Tanzania off the East African coast.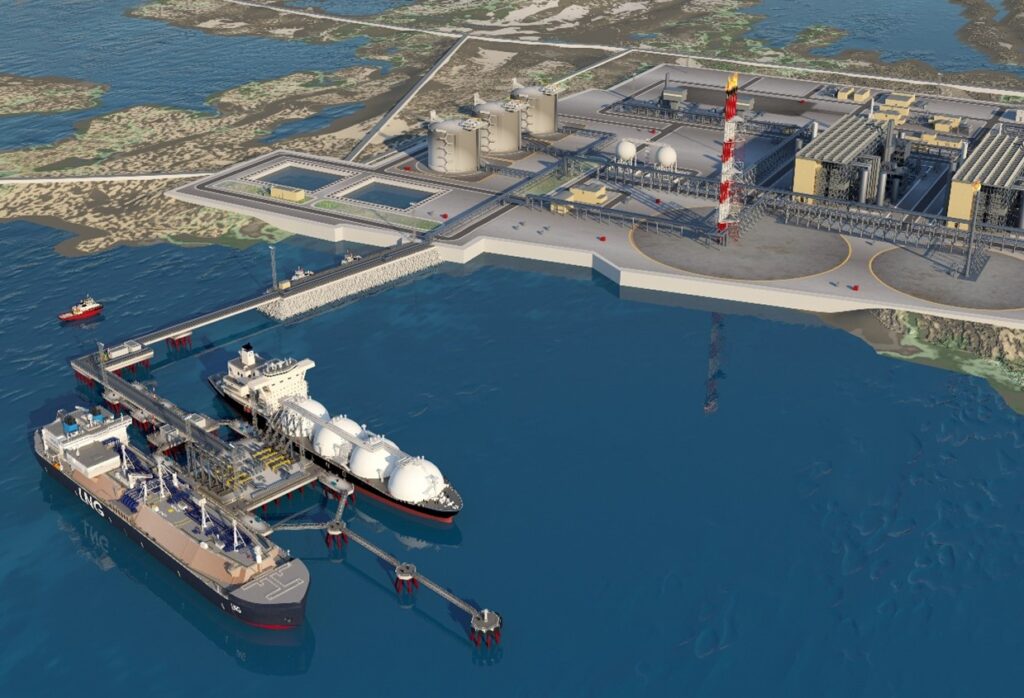 Artist's Rendering of Typical LNG Plant
History of GFP International and early seeds in 1969
The seeds of inspiration for GFP International were planted when its co-founder, Michael Vallez, spent the summer of 1969 working on a ranch in the rain forest of Venezuela, South America. Michael's uncle was a mining engineer working for US Steel Corporation, managing the construction and operation of Cerro Bolivar, a large iron ore mine near the town of Ciudad Piar, Estado Bolivar, Venezuela. At the age of 16 in 1969, Michael shared a one room mud hut with a thatched roof and dirt floor with two young Venezuelan boys, Jose, and Hector.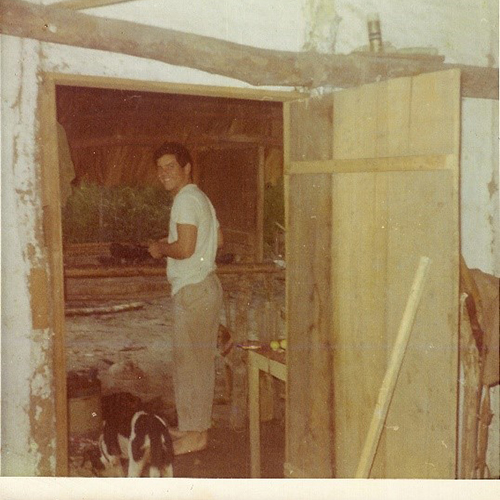 Mike Vallez, Barefoot and Cooking Over a Fire, 1969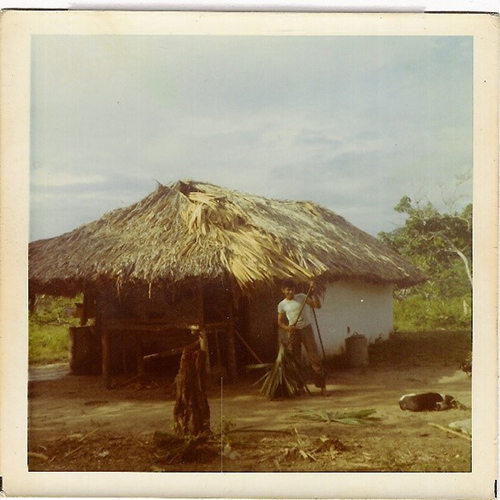 Jose, at the Mud Hut he Shared with Mike Vallez
The ranch did not have electricity, clean water, or refrigeration. The windows did not have screens on them. Water caught from the roof in large cans had to be boiled. Gathering firewood to cook with was a daily chore, so boiling water with firewood was no simple task. Often, water was consumed without boiling. Mike came down with dysentery that had to be medically treated. Mike was 20 pounds lighter and covered with bug bite marks all over his body when he returned to his family in Minnesota 20 at the end of the summer.
The ranch work included building barbed wire fence through the thick rain forest, while facing threats including tarantulas, poisonous snakes, wild boars, and other pests he had never seen or heard of before. One day, a neighbor boy came by and asked for some food. While rubbing his stomach, Raul explained that he not eaten for three days. Mike shared some of his black beans, rice, and canned sardines.
Seeing Raul, hungry and without food, was a turning point in Mike Vallez's young life. When he returned home to the US at the end of the summer, he visited the Catholic Missionary seminary of the Maryknoll Fathers and Brothers. For a time, he considered a life of service in the field of missions, serving the poor in developing countries. But having grown up in a happy family with eight brothers and sisters, he eventually decided on family life, and studied Civil Engineering. Since graduating from Michigan Technological University 1975, he has pursued a diversified career in engineering, construction, and then construction litigation consulting as an expert witness.
At the age of 52, feeling grateful after recovering from a life-threatening illness, Mike Vallez re-discovered his early desires to do what he could to alleviate hunger that he knew about firsthand. He reached out to various faiths in Minnesota where he lived and found a group of like-minded people to join hands and work together. Meeting every month, this coalition became known as GFP International. One thing led to another, and GFP became involved in working with Father Augustine Mbiche, a Catholic Priest in the town of Matamba, Tanzania. During a 2005 visit to Tanzania, Mike witnessed living conditions like those he experienced first-hand in Venezuela thirty-six years earlier.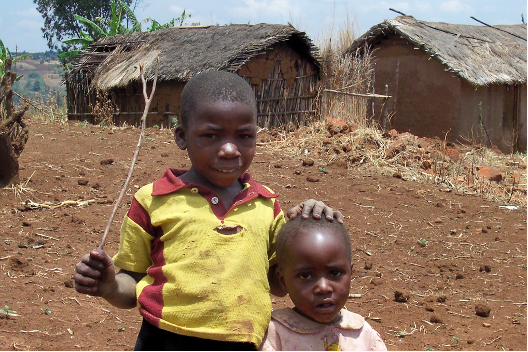 While much of the world was experiencing dramatic advancements in technology such as cell phones and internet connectivity, most rural Tanzanians still lived like this young brother and sister without electricity, plumbing, clean water, or clean fuel. Their mothers had to gather firewood and cook over open fires that often led to cancer, lung disease, and early death. One in ten children in the villages were HIV orphans, having lost both parents to the disease. When Father Mbiche showed Mike Vallez a piece of land where he hoped to build an elementary school, he agreed to help in any way he could. Saint Monica's Elementary School is now thriving, teaching subjects in English, with students scoring in the top 3% of nationally administered tests.
St. Monica's Elementary School Admin Building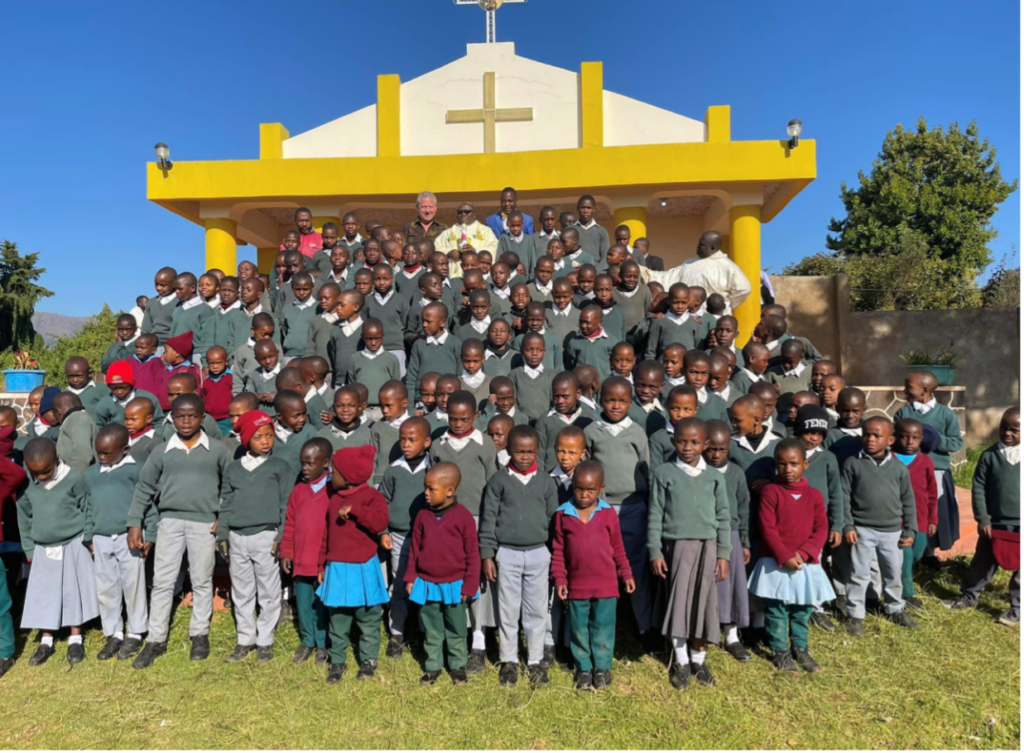 St. Monica's Elementary School Childre
In 2019, Father Mbiche reached out to Mike Vallez and some of his other friends in the US to ask for support in building a secondary school for the kids who completed their work at St. Monica's Elementary School. Mike Vallez and Nancy Halden then formally established GFP as a 501(c)(3) non-profit organization to facilitate raising funds for the new school. Donors can now make tax deductible contributions to GFP. St. Monica's Secondary School is currently under construction, and about 25% complete.
St. Monica's Secondary School Classroom Blocks Under Construction
In 2022, GFP became aware of the progress on the $30 billion UDS / (70 trillion Tsh) liquid natural gas project near Lindi, Tanzania. Based on his career on large industrial projects, Mr. Vallez realized that this plant will require thousands of skilled, trained and educated workers. (Press reports indicate 15,000 workers needed.) After discussion with the GFP Board of Directors, a prompt decision was made to expand the mission of GFP and created the concept of the School-to-Work Program.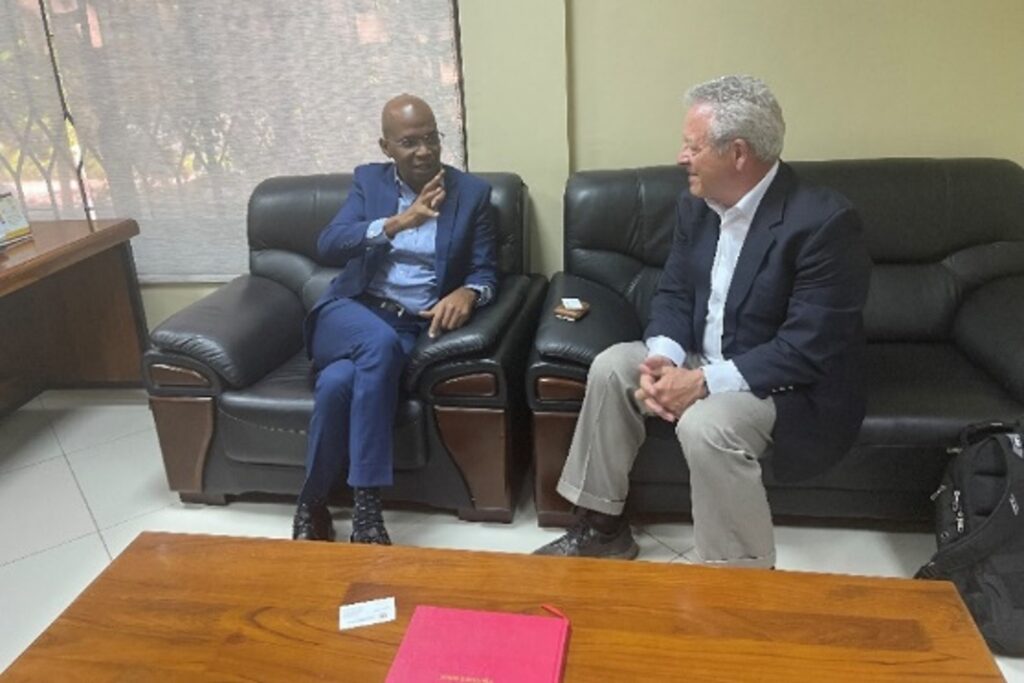 With Hon January Makamba, Minister of Energy
After conducting some research and making some initial contacts via email and mail, Mr. Vallez traveled to Tanzania in June of 2022 to find out more about the state of craft training in the Country. He visited some trade schools and met with the Minister of Education, Hon Adolf Mkenda, and Minister of Energy, Hon January Makamba.
Based on these positive meetings and his findings, a plan of action began to emerge. Two Tanzanians were added to GFP International  Board of Directors, Pastor Michael Killagane and Mr. Dunford Mpelumbe, both noted above.
A plan for the School to Work Program evolved that involves three key elements:
In January 2023, GFP returned to Tanzania with its welding advisory team, a group of globally recognized welding and welding training experts from across the United States and South Africa. Working with six existing welding schools, this team interviewed 50 candidates to participate in the US welding training. Most of these candidates were already welding instructors working in these schools.
Welding Advisory Team with Welding Students at VETA School in Lindi, Tanzania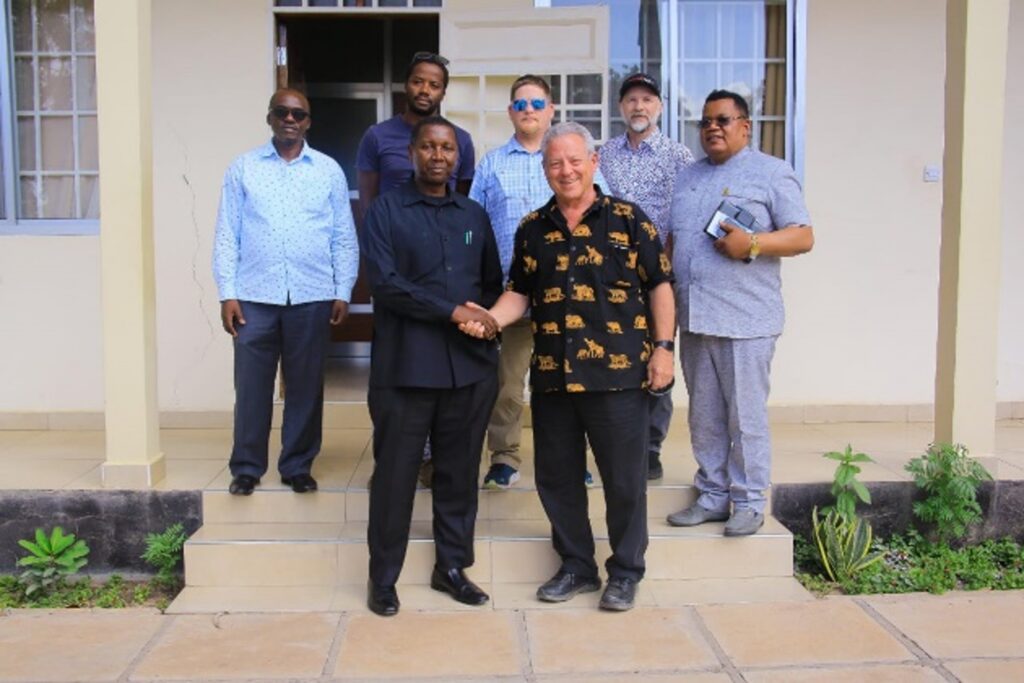 Mike Vallez and GFP Welding Advisory Team with Hon Adolf Mkenda, Minister of Energy and Dr. Noel Mbonde Back row, from left to right: Pastor Michael Killagane; Sibusiso Mpapane, Metallurgical Engineer and Welding Contractor; Ryan Eubank, Welding Consultant, Director and Educator; Nick Price, Welding Program Director, Educator; Dr. Noel Mbonde, Director of Technical Education and Vocational Training.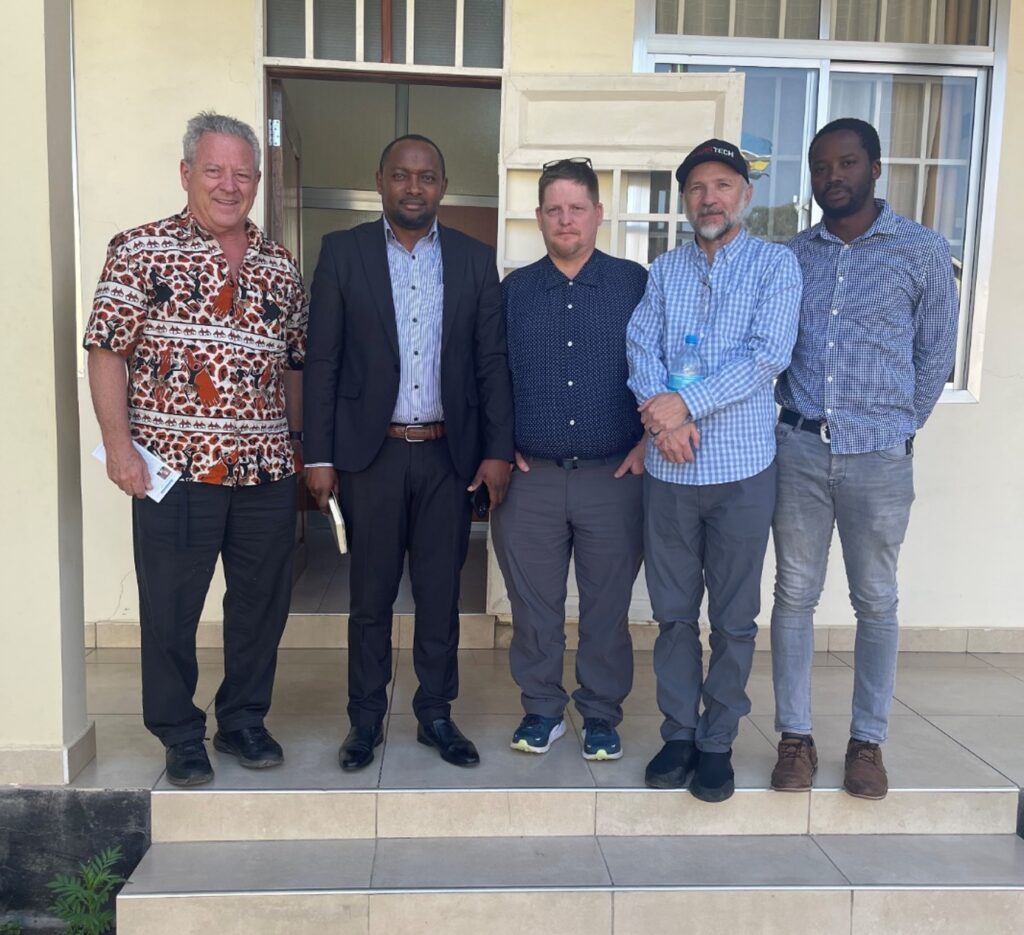 With Mr. Anthony Kasore, Director General of VETA (Oversees 43 existing training centers with 23 under construction) Left to Right: Mike Vallez, Anthony Kasore, Ryan Eubank, Nick Price, Sibusiso Mpapane
Welding school modernization will involve training centers located in some of the major population centers across Tanzania, to provide access to a broad cross section of Tanzanian workers that will be needed to complete the Lindi LNG Project and other planned developments in the Country.
Proposed Training Centers with our Partners, School-to-Work Program